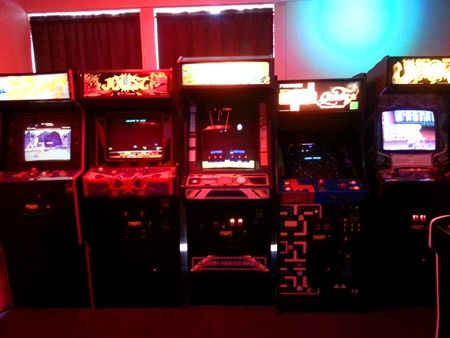 We are located in the heart of the DFW Metroplex area and easy to get to from Dallas,
Fort Worth, Grapevine, Carrollton and Arlington.

We do not have redemption games but rather focus on the pure retro arcade experience.
If you are looking to play some fun 80s and 90s arcade games, join a tournament or
hang with friends while playing Altered Beast on a Sega Genesis or Super Smash Bros
on an N64 then this is the place for you! Have fun and play some arcade classics like
Ms. Pacman, Galaga, The Simpson's 4 player or Street Fighter 2.

If you are looking to win tickets for prize redemption may we suggest Dave & Busters,
Round 1, Adventure Landing, Celebration Station or similar establishments.

Quarter Lounge is a family friendly safe environment, no alcohol or bullying is tolerated.
Just a friendly social place to hang, play and compete in casual or competition style
tournaments.
We are proud of our establishment, the mood, the condition of our games and the authentic retro arcade experience that we offer. Please check out our reviews on the web, Google, Yelp, Facebook etc., you won't be disappointed. See you at the arcade!